3 houses falling apart: emergency rebuilding needed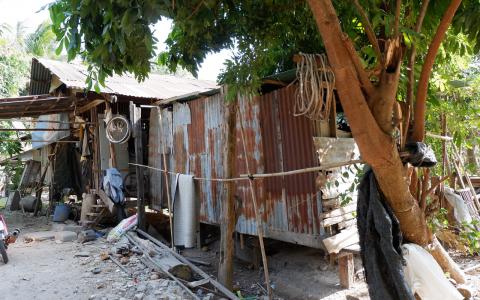 Imagine living with small children, in a little shack that is falling apart. A house with no walls, just one small room. There is no bathroom or toilet, so you need to shower outside. And now the roof is leaking and the walls of congregated steal are falling apart. Long story short: these families need immediate help!
These 3 different families are all underprivileged families, living in Mukdahan province, in the poor and dry northeast of Thailand. They didn't just end up in poverty. Due to several diseases, they cannot work much and hence have no income. These families have been affected by HIV, Parkinson, diabetes, high blood pressure and consists of several handicapped people. 
Quick action needed
These families haven't asked for help. They are all part of Siam-Care's family care program. During home visits, we noticed that the roofs are leaking and the walls are not strong and full of holes. Something needs to be done quickly, as these houses aren't safe places to live in, especially not for children.
Not expensive
Thankfully labor is fairly cheap in Thailand, and so are some of the building materials we need. In total, we need 1500 Euro to repair these 3 houses and make them safe again. Will you make a difference for these families in need? Thank you so much!
Help out now!
Yes, I want these families to live in a safe place
Siam-Care accepts donations via all major debit/credit cards, as well as via iDeal for Dutch banking-customers.
Mukdahan