Krit (5 years old, see photo, not his real name) had never been to school, when we met him. He was supposed to go, but his family didn't have enough money to support his education. His mother recently ended up in prison and now his old grandmother needs to look after him. They really struggle to survive and thus Siam-Care is offering help.
In Thailand, children start going to school when they are 3 years old. For Krit, this wasn't possible. He used to live with his older sister and his mother and the family was struggling to make ends meet. Especially when mother was suddenly arrested. He moved to live with his grandmother, who works as a day laborer. If there work for her to do, she makes 300 baht per day. But more often than not, there is no work and thus the family has no income at all.
Children suffer most
Also, grandmother now needs to look after her 2 grandchildren. Taking them to the construction sites, so that grandmother can work, is not always allowed. And thus, she often has no income at all, leaving this family struggling hard to make ends meet. Mother may have done something stupid, causing her to be arrested, it is the children who often suffer the most. They are the ones who cannot go to school due to the situation.
Happy boy
Siam-Care focuses on giving hope and a future to children in need. Children such as Krit. And thus we started looking for a donor. Krit is a very enthusiastic student, always happy to go to school, learn and play. He is confident, quite talkative and always smiling, despite his difficult family-situation.
Extra pressure
We did find a donor for Krit and bought a school uniform for him (see photo). We also help cover travel expenses. Grandmother didn't have a house in the past, she would live on the construction-sites where she was working. She now had to start renting a small room, so the children have a place to sleep. This causes extra pressure on their family's situation. We will not cover her rent, but do try to help her find suitable work, so she can be self-supportive. Thanks to your support, we can make a difference for Krit, his sister, and his grandmother.
Phangnga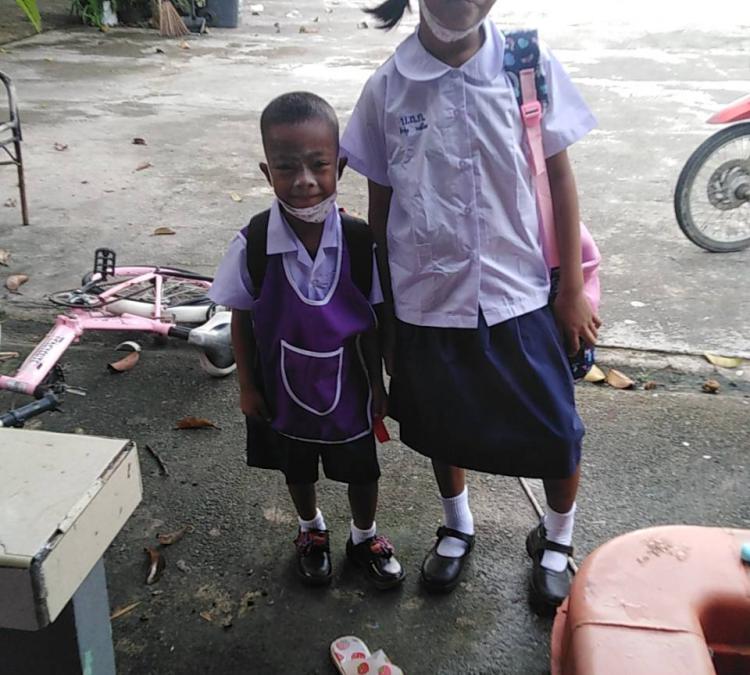 Would you like to give hope and future to a child? You can find more information about childsponsoring here.
Give future to a child