Life saving device for Keng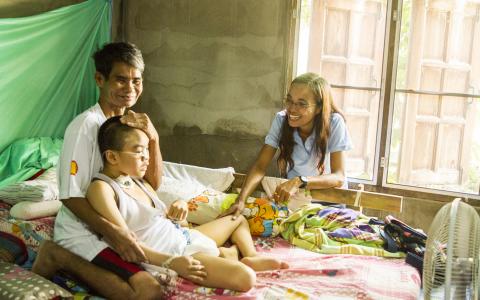 Keng (not his real name) is a 12-year-old boy, who lives with his grandparents in Mukdahan, northeast Thailand. 3 years ago, Keng was hit by a car and was left fully disabled. He is not able to walk, talk, hear of see. Grandfather quit his job to take care of his grandson. Siam-Care regularly visits this family and recently discovered Keng has a big need: a mucus clearance device, to prevent him from choking.
By cleaning the school garden, Keng had made a little money for himself. 3 years ago he went to buy noodles, but was hit by a car while he was walking next to a big road. The driver did not pay enough attention. Keng was severely injured and underwent brain surgery several times and now, 3 years later, he fully depends on his grandparents. He eats through a tube, cannot move and doctors think he lost most of his senses. Keng can also not cough by himself. He is often sick and his grandparents need to use a device to clear his mucus, as he cannot do this by himself.
The problem is: the device that was given to this family by the hospital, needs to be plugged in. But often there is no power in the small village where this family lives, and so they cannot use their device. This can cause life-threatening situations. Siam-Care would like to buy a mucus clearance device which uses batteries, so it can always be used. Will you help us buy this device for Keng? This family is very poor as grandfather takes fulltime care of Keng, and grandmother is too old to work.
Donate now
Yes, I want this family to receive a mucus clearance device
Siam-Care accepts donations via all major debit/credit cards, as well as via iDeal for Dutch banking-customers.
Mukdahan