Help improve a young life ruined by meningitis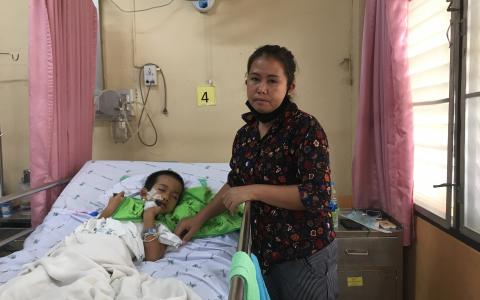 Tui (2012) was a happy and kind boy, living a normal life, together with his mother Nut (1990) and sister Biew (2008). Until he got meningitis, in December 2019. He now is physically disabled and can only lie in bed, all day long. Will you help us buy him the tools that he needs, to improve his life and the life of his mother a bit?
After a day of swimming with his friends, Tui got an ear-infection. After a few days, he suddenly collapsed. At the hospital they discovered he had meningitis, which soon developed into a very seriously condition. He can now only lie in bed, and mother had to quit her job to look after her son fulltime. The family struggles financially and is in great need of help. 
What does Tui need?
Siam-Care wants to help this family by buying 3 tools: a wheelchair, so mother can take Tui out of the house and hopefully find a job where she is allowed to bring her son. They also need a mucus clearance device, as he cannot cough himself and therefore could choke when having a cold. Lastly, Tui needs a special matrass, to ensure he will not get pressure ulcers (bedsores), which could occur when people aren't able to change their position themselves. 
Heartbroken and desperate mother
Mother Nut is heartbroken due to this sad situation. She misses her cheerful son and worries a lot on how to make ends meet financially. They hardly get any government support and don't have the financial means to look after themselves well. We wish we could heal her son, which we cannot. But we can bless this family, by buying them the tools which they badly need. 
Help out now!
Yes, I will make a difference for Tui and his mother
Siam-Care accepts donations via all major debit/credit cards, as well as via iDeal for Dutch banking-customers.
Mukdahan