Rice for farmers in flooded areas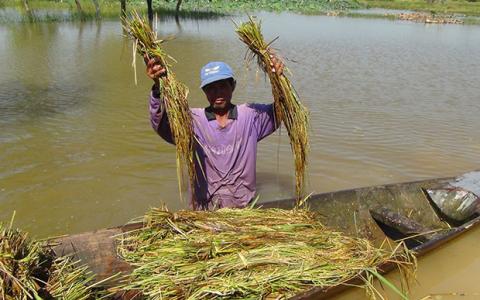 Many of our families in Mukdahan (northeast Thailand) make a living by growing and selling rice. This year big areas around Mukdahan, where Siam-Care has an office, where flooded by the heavy rains. The results? Many rice plants rotted and died. Hence the farmers do not have enough rice to eat, pretty much no rice to sell and the prices of rice went up a lot.
Many farmers were left with no choice but to harvest their crops prematurely as water spread over many paddy fields in the northeast of Thailand. Farmers from different villages, used boats as they rushed to harvest their grain in the field covered by more than a metre of water. The rice would have been fully mature in the next months, but the farmers said they could not wait that long to harvest it, as most plants already rotted and died. Some of the prematurely harvested rice could be dried and kept for home consumption, the farmers said. It was not worth trying to sell it. The grain had formed in the flowers, but was not yet ripe. 
Even without the floods, Siam-Care's family are having a hard time to make ends meet. This season it is even harder for them to survive. Will you help Siam-Care buy rice for a 100 families, who were all affected by the floods?
You can't change the world, but you can change the world for our families.
Donate now
Yes, I will enable Siam-Care to buy rice for a 100 families
Siam-Care accepts donations via all major debit/credit cards, as well as via iDeal for Dutch banking-customers.
Mukdahan